Are you still using a paper protocol?
While paper protocols are readily available and multiple options exist, there is a great deal of evidence-based data that indicates that computerized "insulin-dosing calculators" provide better patient care….less frequent hypoglycemia, enhanced compliance with fewer errors, less nursing time and workload, and better overall glycemic control. A 2006 study by Taylor, et. al, concluded that "Despite extensive in-servicing before implementation of the protocol and frequent feedback to the greater than 80-member nursing staff, protocol violations were identified a large portion of the days patients were on insulin infusions".[1] Our own study of GlucoCare compared to a paper-based Yale protocol uncovered a substantial incidence of protocol deviations and errors that directly led to unwarranted hyper and hypoglycemia.[2]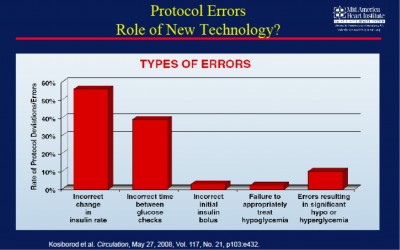 Multiple other studies have demonstrated similar results….some from other FDA-cleared insulin dosing calculators (e.g. Glucommander, Endotool, and Glucostabilzer)[3-8]
Bottom line….multiple evidence-based studies demonstrate that computerized protocols that assist nurses in the management of continuous insulin drips enhance patient care by reducing hypoglycemia and improving overall glycemic control.
References:
Taylor, B.E., et al., Efficacy and safety of an insulin infusion protocol in a surgical ICU. J Am Coll Surg, 2006. 202(1): p. 1-9.
Kosiborod, M., et al., Hyperglycemia Management in the Cardiac ICU: Can computer-driven Glucose Control Protocols Reduce Errors and Improve Patient Safety? Circulation, 2008. 117(21): p. 103:e432.
Cyrus, R.M., et al., Evaluation of compliance with a paper-based, multiplication-factor, intravenous insulin protocol. Ann Pharmacother, 2009. 43(9): p. 1413-8.
Juneja, R., et al., Computerized intensive insulin dosing can mitigate hypoglycemia and achieve tight glycemic control when glucose measurement is performed frequently and on time. Crit Care, 2009. 13(5): p. R163.
Lee, A., et al., Computerisation of a paper-based intravenous insulin protocol reduces errors in a prospective crossover simulated tight glycaemic control study. Intensive Crit Care Nurs, 2010. 26(3): p. 161-8.
Oeyen, S.G., et al., Adherence to and efficacy and safety of an insulin protocol in the critically ill: a prospective observational study. Am J Crit Care, 2007. 16(6): p. 599-608.
Rattan, R. and S.A. Nasraway, The future is now: software-guided intensive insulin therapy in the critically ill. J Diabetes Sci Technol, 2013. 7(2): p. 548-54.
Saur, N.M., et al., Software-guided insulin dosing: tight glycemic control and decreased glycemic derangements in critically ill patients. Mayo Clin Proc, 2013. 88(9): p. 920-9.